The very unique Porsche 959 RALLY RAID by Scaleauto THATSLOTCARGUYOZ@GMAIL.COM
This is a new venture for CleaveTech into the unknown! Maybe I shouldn't have visited the recent NSCC Leeds swap meet. What have I let myself in for? Check out "that slotcarguy" he really knows his stuff about all brands of model slot car and is clearly slot car crazy 🙂 that slotcarguy channel – https://www.youtube.com/channel/UC0AzvM-BbxBY0fS5ctNZUCQ RevoSlot review – https://youtu.be/gQaTeP8zA6A Facebook: https://www.facebook.com/cleavetech.co.uk/ Instagram: https://www.instagram.com/cleavetech/ Web: https://www.cleavetech.co.uk/ Email: cleavetech.james@gmail.com Slotblog: http://slotblog.net/forum/506-tech-tips-by-james-cleave/
#slotcarnews #slotracing #toycars So much news to share this week it should be illegal. NSR, Slot It, SRC, BRM… partridge and pear tree. News sponsored by: https://www.lebhobbies.com/ Please follow Digital Racing Solutions on Facebook: https://www.facebook.com/DigitalRacingSolutions
meine kleine Slotcar Sammlung , die Bahn ist noch im Bau.
Tonight I'm unboxing my first Slot.it slot car! Very excited to start dipping into this brand. This car is analog and as you know I run a Carrera Digital system, so this car needs to be chipped to run on my track. This video is part 1 of 2. Part 1 being a unboxing. Part 2 will be chipping the car and running the car.
New slot car column in Victory Lane Magazine.
A must know for any Carrera slot car track or car owner THATSLOTCARGUYOZ@GMAIL.COM
#slotcarnews #slotcars #slotracing News from Fly, Avant Slot and SCX today to share. Also at the end of the video are back-to- back videos from SCX showing 2 of their recently released cars. News sponsored by: https://www.lebhobbies.com/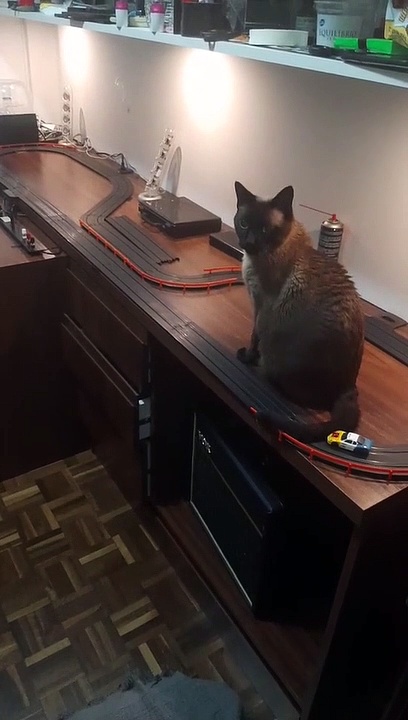 Occurred on August 18, 2021 / Curitiba, Paraná, Brazil : Pipico is a very funny, intelligent, and polite cat. However, when it comes to slot cars he goes crazy. He loves it. It is his hobby.