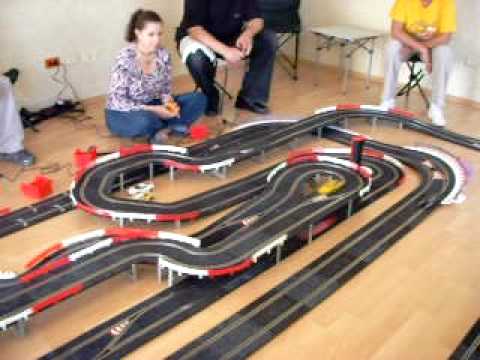 Excelente video donde compiten un Ferrari, un Mosler, un Porsche, en una pista con 4 rectas de miedo, disfrutalo
The Carrera slot cars "Initial D" video showing the "China only" Initial D 1/32 slot cars.
200ft long Scalextric track – 1 hour 40 minutes of construction compressed into 2 minutes, followed by some action shots of two Audi TT cars racing.
Carrera Bahn Rennbahn / Slotbahn\r\rThema: Dekoration / Zuschauer Tribüne selbst bauen\r\rAus 4mm Holz und Pappe die Tribüne bauen\rBodenplatte mit Verbinder für die Schiene aus 8mm Holz.\rMit Dekoration wie z.B. Zaun, Bäume, Figuren,…\r\r——————–\rCarrera Slot Rennbahn – How to and Guide
Quelques images des 24 h "Scalex" de Safran, qui ont eu lieu les 21 et 22 juin, dans le cadre du musée du même nom (Seine et Marne). Système DAVIC.
Après avoir passé 20 ans dans sa boite, j'ai décidé de ressortir le jour de mes 32 ans, mon circuit tyco magnum monte carlo. il fait 18m30 de long !!!! et bonne surprise : après 20 ans sans servir il marche toujours impeccable !!!! bon il y a quelques trucs à rénover mais c'est quand même du très bon matos ce tyco magnum 440-x2 monte carlo