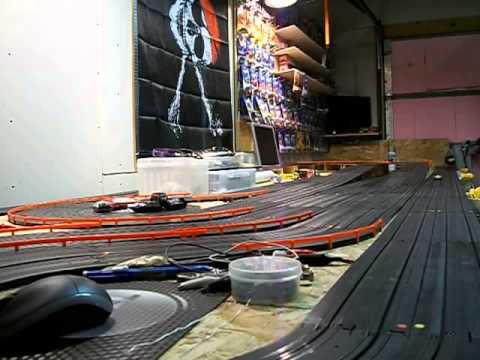 Running HO slot cars on 4 lane track Lincoln, Nebraska. 89 foot per lane track.
Another good season at Hot Wheels Haven! Copyright to the first part of the song is Bitter Sweet Symphony by The Verve and copyright to PJ North- All About That Wally.
Buzz Perri owns and operates the last running slot car raceway in New York City. For 49 years Buzz has provided New Yorkers "5 to 95 years old" the chance to race authentic slot cars on a variety of tracks. Buzz-A-Rama is located in the Brooklyn neighborhood of Kensington and can be rented for Birthday parties. Shot and Edited by Clayton Ashley Music by Pharaos. http://freemusicarchive.org/music/Pharaos/
4 Lane track 1:24 scale, custom electronics and timing systems using PLC and PC with projector display. Built using super wood.