Perfect for younger kids, the Micro Scalextric Total Rally Playset offers all the thrills of a normal sized Scalextric Set but for little racers. The ideal introduction to the action-packed world of Scalextric. Easy to assemble, this set includes 2 rally cars, 386cm of track with a hairpin curve, 2 hand controllers, power supply and accessories including an automatic lap counter. Find it in your local retailer now – https://www.scalextric.com/uk-en/stockists/
Mini Champions Micro Scalextric. This is a brilliant little starter set to get you interested in Scalextric. Little Mini Coopers racing thrashing round a circuit what more could you ask for!
It's a question you've probably never asked – what is quicker, a racing car or a Scalextric car? We pitted little versus large (a real-life Jaguar I-Pace eTrophy against its slot car equivalent) to find out! We're backing Mike and the mini Jag… To check out the latest products from Scalextric – including this epic Jaguar I-Pace eTrophy set – click this link: http://bit.ly/2ofYDUf Follow us: https://twitter.com/drivetribe https://facebook.com/drivetribe Check out our store: https://store.drivetribe.com/ Subscribe to the DRIVETRIBE YouTube channel: http://bit.ly/D_TRBsubs
This is a vid series I am going to try and do weekly. It will cover my exploits in the slot car hobby. This week I travel to raid a fellow club members collection, and share with you guys what I bought! There is also a quick walk through of a car I have built for our race class classic LeMans! Spirit slot cars, Fly slot cars, Slot.it all are covered here!
We assembled a 550 meter long slot car track using more than 2,000 track pieces and built a tunnel with LED lights. Then we put accelerometers and other sensors on the Carrera cars and sent the data to PRTG. Why? So we could monitor stuff, of course. Technical angle: https://youtu.be/mOc0lSyXImw Entire track: https://youtu.be/k1haudwmlR4 Enjoy! Your Paessler Team
Circuit Carrera Digital D 132 – Slot Racing
My Scalextric digital layout.
Testdrive of the new BRM NSU TT 1/24 slotcar on the scalextric sports track, driving great, a new class is born.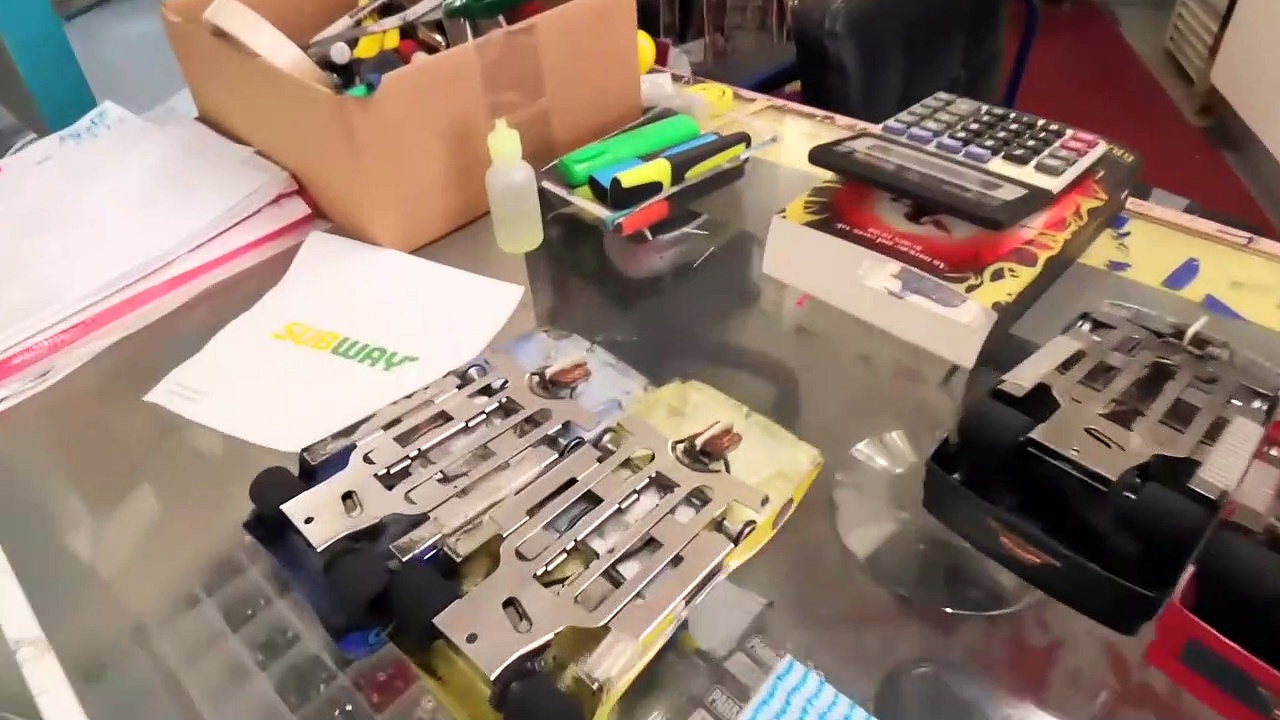 A look at the Hornsby Slot Car centre in Sydney which holds the national championship slot car event. See a slot car race around a 186 foot track in 3.2 seconds! Forum: http://www.eevblog.com/forum/blog/eevblog-1214-insanely-fast-slot-cars/ #SlotCars #Racing Bitcoin Donations: 38y7DE8HEHNj8fGDtUr4PkCn9nWxiorvvyLitecoin: ML7oQokTwB38bgzzjLDbRV97HKAHuwRfHAEthereum: 0x11AceA38DCA9DbFfB4F35f3F746af65F9dED28ce EEVblog Main Web Site: http://www.eevblog.comThe 2nd EEVblog Channel: http://www.youtube.com/EEVblog2 Support the EEVblog through Patreon!http://www.patreon.com/eevblog AliExpress Affiliate: http://s.click.aliexpress.com/e/c2LRpe8gBuy anything through that link and Dave gets a commission at no cost to you. Stuff I recommend:https://kit.com/EEVblog/ Donate With Bitcoin & Other Crypto Currencies!https://www.eevblog.com/crypto-currency/ T-Shirts: http://teespring.com/stores/eevblogLikecoin – Coins for Likes: https://likecoin.pro/@eevblog/dil9/hcq3